Post-Breakup reunions
Led-Zeppelin reunited for the fist time following the death of drummer John Bonham on July 13th, 1985 at the Live Aid Concert in Philadelphia. They played a set of three songs: Rock and Roll, Whole Lotta Love and Stairway to Heaven, with drummers Tony Thompson and Phil Collins filling in. The brief reunion was described by critics, fans and the band alike as shambolic and an "atrocity". Though the reunion did illustrate the bands willingness to play together again. They were introduced as "my friends" by Phil Collins and the name Led-Zeppelin or the term reunion was never used in an official capacity.
The second instance of reunion took place on May 14th, 1988 at the Atlantic Records 40th Anniversary concert with John Bonham's son, Jason, taking his place for the first time in Led-Zeppelin. While deemed better than live aid the performance was disjointed and out of sync with an argument reportedly taking place between Plant and Page prior to taking the stage over whether to play Stairway to Heaven, John Paul Jones' keyboards were also absent from the live feed.
The third and final reunion taking place before the full-scale reunion of 2007 was in 1995 when Led-Zeppelin was inducted into the United States Rock and Roll Hall of Fame. They played two brief sets, one with Joe Perry and Steven Tyler of Aerosmith and Jason Bonham again on drums and the second with Neil Young and Michael Lee of Robert Plant's solo band on drums. The efforts were once again labeled as inferior and out of sync with renewed tensions in the band between Jones after the extended collaboration between Page and Plant that had begun that year.
Jimmy Page
Jimmy Page made his return to the stage in March 1981 in London at a Jeff Beck performance. Also, that year Page and Yes bassist and drummer Chris Squire and Alan White collaborated, rehearsed and even recorded demos for a possible supergroup called XYZ, for Ex-Yes-Zeppelin. The recordings, which exist now only as bootlegs, also feature Greenslade keyboardist Dave Lawson. Page thought the group needed a strong vocalist and offered the position to Plant, who attended rehearsals but ultimately declined leading the project to be shelved indefinitely. In 1982 Page was commissioned to record the soundtrack for the movie Death Wish II, which featured heavy use of a guitar synthesizer. In 1983 Page took part in the A.R.M.S (Action Research for Multiple Sclerosis) charity concerts, which took place in hour of Small Faces bassist Ronnie Lane who had the disease. Page's set began as consisting mostly of instrumentals from the Death Wish II soundtrack and an instrumental version of Stairway to Heaven. A short tour of American followed the initial concerts in London with Page beginning to collaborate with Paul Rodgers of Bad Company. The concerts featured a host of rock icons, most notably Bill Wyman and Charlie Watts of the Rolling Stones, Steve Winwood, and Erich Clapton and Jeff Beck, the concerts marked the first time that all three former Yardbirds guitarists played on stage together. At the end of 1983, Page was seen on stage with Robert Plant for the first time since the end of Led-Zeppelin, performing during Plant's encore at the Hammersmith Odeon in London.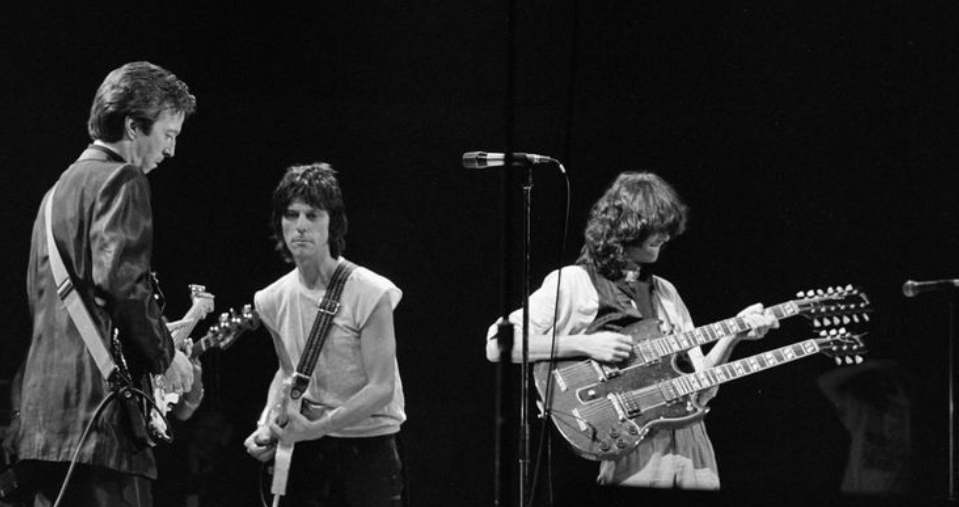 In 1984 Page began collaborating with folk singer Roy Harper, contributing lead guitar to Harper's album Whatever Happened to Jugula? and occasionally performing onstage with Harper. The same year Page and Plant as well as several other musicians like Jeff Beck recorded an album as The Honeydrippers, which featured mostly 1950's rock and roll and rhythm and blues covers. He also contributed to the film soundtrack Scream for Help by John Paul Jones. In 1985 Page began a collaboration with Paul Rodgers that would be known as The Firm, releasing their first album in 1985 and a second in 1986. The two, along with bassist Tony Franklin and drummer Chris Slade toured extensively for both albums but soon dissolved afterwards. In 1988 Page released his only to date solo album titled Outrider, the album featured Jason Bonham on drums and vocalists Chris Farlowe and John Miles on various songs. One song was also written with and sung by Robert Plant.
In 1990 during a concert of Robert Plant's at Knebworth, England, Page unexpectedly joined Plant onstage to perform Misty Mountain Hop, Rock and Roll and Wearing and Tearing (the first time being performed by any member of Led-Zeppelin.) The same year the surviving members of Led-Zeppelin also reunited in private at Jason Bonham's wedding. In 1993 Page released an album with David Coverdale entitled Coverdale Page and toured just Japan with the outfit. It was during this time that Page and Plant began talks and rehearsals for what would ultimately become the Page & Plant collaboration. In 1998 Page collaborated with rap artist Puff Daddy on the song Come with Me which heavily sample Kashmir for the soundtrack to the film Godzilla. In 1999 Page performed and tour extensively with the Black Crowes, releasing a live album of the performances.
Robert Plant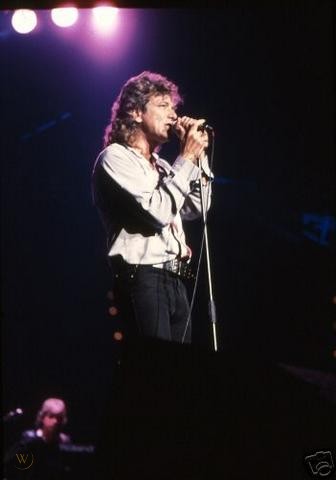 Following the end of Led-Zeppelin singer Robert Plant initially considered quitting music to become a teacher and even began the training process but dismissed this and released his first solo album post Led-Zeppelin in 1982 titled Pictures at Eleven, followed by a second in 1983 called The Principle of Moments, it was in 1983 that Plant also returned to touring regularly. Plant released two more albums in the eighties, Shaken 'n' Stirred (1985), and Now and Zen (1988), the last of which featured two guitar solos contributed by Jimmy Page. Throughout the eighties Plant refused to perform Led-Zeppelin songs in his sets, it wasn't until the nineties that Plant relented.
Plant released two more solo albums in the early nineties Manic Nirvana (1990) and Fate of Nations (1993). Following the Page & Plant project of the mid to late nineties Plant formed a folk-rock band called Priory of Brion and played mostly cover songs Plant considered influential in his early years, many of these songs would appear on Plant's 2002 album, Dreamland, released as the group Strange Sensation, the group would later release an album of original material titled Mighty ReArranger (2005). Plant toured insistently with Strange Sensation from 2001 to 2007 performing recent and older solo material as well as Led-Zeppelin songs. From 2007 to 2008 Plant recorded and performed with country bluegrass singer Alison Krauss, the resulting album, Raising Sand was critically and commercially successful and the paired toured frequently together.
In 2010 Plant began a short summer tour of the United States with a new group called the Band of Joy, the same name of his very first band that also feature John Bonham in the sixties, the group included singer Patty Griffin, later that year a self-titled album was released and Plant and the band continued to tour. The band performed its final scheduled concert together at the Big Chill Festival in Herefordshire on August 7th, 2011 while the band would later play Hardly Strictly Bluegrass Festival in San Francisco a month later before dissolving. In 2012 reports spread of Plant unveiling a new group at the WOMAD Festival in England that same year, the band, consisting of Patty Griffin and former Strange Sensation members, was dubbed the Sensational Space Shifters and in September 2014 the band's first album was released, Lullaby and… The Ceaseless Roar. Robert and the band continued to tour in various contexts and in 2017 released the second album featuring the Sensational Space Shifters titled Carry Fire. In 2019 Plant played series of low-profile acoustic concerts with a group called Saving Grace.
John Paul Jones
Almost immediately following the end of Led-Zeppelin Jones returned to session work and in the following decades has worked with a score of different artists across various genres. In 1984 he appeared on sessions for the Paul McCartney album and film soundtrack Give My Regards to Broad Street. In 1985 Jones scored the film soundtrack for the movie Scream for Help after Jimmy Page turned down the offer and suggested Jones in turn, Page would still play on two tracks. In 1992 he would arrange the orchestration on the R.E.M album Automatic for the People. In 1994 he recorded and toured with singer Diamanda Galas for her album The Sporting Life. He would then set up his own recording studio called Sunday School. In 1995 Jones produced and played on a live acoustic album by Heart called The Road Home and the same year composed and arranged three Spanish songs in 17th century style of music played by Andrew Lawrence-King's Harp Consort.
Jones' debut album Zooma was released in 1999 with a sophomore follow up released in 2001 titled The Thunderthief, both albums were accompanied by tours. In the 2000 Jones recorded, produced and played with a countless number of artists, some big names like the Foo Fighters, Seasick Steve, and Gillian Welch and David Rawlings and some independent artists. As well as a yet to be released Opera that he wrote and composed himself. Most recently in 2009 Jones formed the supergroup Them Crooked Vultures with former Nirvana drummer and Foo Fighters frontman Dave Grohl and Queens of the Stone Age frontman Josh Homme, with their self-titled album being released in November of that year.