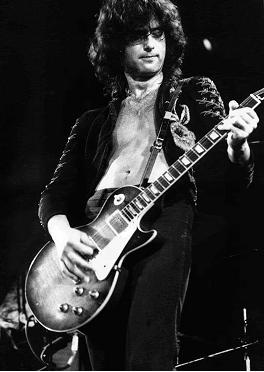 Jimmy Page
Jimmy Page was born January 9th, 1944 in London. He first picked up the guitar at age 12, while he did take some lessons, he was largely self-taught. He learned from other players at school, where he would eventually meet future peer and Yardbird bandmate Jeff Beck. Though Page would have numerous stints in various pop and dance hall bands in the early sixties it wasn't until Page was spotted on stage at the Marquee club playing with different acts like Cyril Davis, Alexis Korner and friends Jeff Beck and Eric Clapton, that Page was approached about the possibly of playing some sessions with different producers. It wasn't until 1965 that Page committed to full time session work. He quickly became the favorite of many producers and his reputation for his behind the scenes work grew. He's noted for having played on a number of hit and obscure records of the sixties like: The Who, Marianne Faithfull, The Rolling Stones, Van Morrison, and Petula Clark, among others. Page would then become the house producer for Immediate Records, which allowed him further control and input on what he would play on and produce. In 1964 Page was approached about replacing Erich Clapton in the Yardbirds, whose blues purist views were conflicting with the mainstream breakthrough the other Yardbirds were hoping for. Out of respect for his friend, Page declined and declined again when he was formally offered the position a year later. In turn he recommended his old school friend for the job, Jeff Beck. By the following year, disillusioned with the increasing prevalence of "muzak" sessions, Page attended a Yardbirds concert in Oxford where bassist Paul Samwell-Smith announced he was leaving the group, eager to get back into touring, Page offered to replace him while rhythm guitarist Chris Dreja learned the necessary bass parts so Page could then switch to lead guitar along with Jeff Beck. But with a lack of commercial and financial success and a brutal touring schedule had began to take its toll on the band and Beck soon departed in the middle of a tour of America. The band soldiered on with Page solely on guitar, one album was recorded with Page, Little Games and was not a success. While the bands on record sound was relatively tame and standard of the time, featuring light guitar pop hits, reminiscent of early Beatles and Rolling Stones records, the Yardbirds' live performances were the complete opposite. Becoming more and more raw and experimental under Page, featuring increased improvisation, increased focus on dynamics, and influence of world music and guitar distortion and feedback. Theses ideas Page would later perfect in Led-Zeppelin.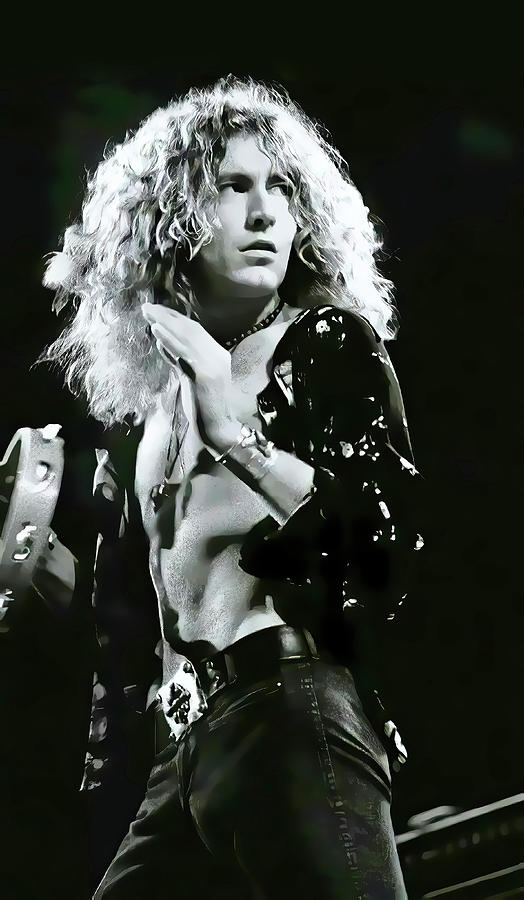 Robert Plant
Robert Plant was born on August 20th, 1948 in West Bromwich England. From an early age Plant expressed his love for early rock n' roll and his desire to be like Elvis. He left school in his mid-teens and it was then he developed a strong liking for the American blues music of the likes of Willie Dixon and Robert Johnson. He would later abandon training as an accountant to attend college in an effort to make himself a part of the English Midlands blues scene. He also worked various odd jobs while pursuing his career as a singer, such as laying tarmac on the roads and a short period of working for Woolworth's. During this time, he released three obscure singles for CBS Records and fronted a variety of blues, folk and psychedelia bands, one of which was called the Crawling King Snakes where he was first introduced to John Bonham. They would both go on to play in a group called the Band of Joy, a group that merged blues with current psychedelic styles, decades later Plant would revive the name Band of Joy for his solo endeavors. Plant was discovered by Page while performing at a teacher training college in Birmingham while Plant was singing with a group called Hobbstweedle, a name referencing the Hobbit, by J.R.R Tolkien, whose works would later heavily influence Plant's writing and Led-Zeppelin's music. Reportedly when Plant sang a cover of Jefferson Airplane's Somebody to Love, Page decided to hire him.

Over the course of Led-Zeppelin, Plant and Page developed a strong friendship and powerful songwriting partnership, building off shared interests in the blues, folk and early rock n' roll. The two would often take various holidays while off the road from Led-Zeppelin, leading to the inclusion of various world music influences in the music. Various trips to Thailand, India and the Atlas Mountains in Morocco can be seen throughout Led-Zeppelin's catalogue and can be attributed to these trips and Plant's interest in North African and Eastern modes of music. It was after the death of his son, Karac, in 1977 that Plant began to question his place in the band and his once unwavering faith placed in Page and their shared vision for the band. It was during this time that Plant began courses to become a primary school teacher in his area and also began singing with local bands before ultimately deciding to return to Led-Zeppelin.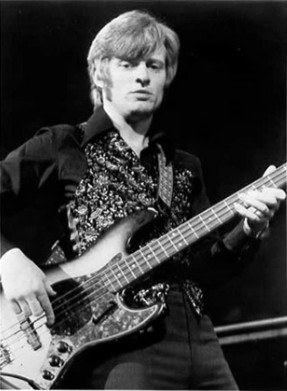 John Paul Jones
John Paul Jones was born John Baldwin, on January 3rd, 1946. He was born into a musical family where he learned to play the piano at age six, from his father. His mother and father were both in the music business, his father, a pianist and arranger for big bands of the 40's and 50's, which allowed the family to travel and perform together, often as a vaudeville comedy act. He has listed his influences as everything from the blues of Big Bill Broonzy, Charles Mingus jazz and the classical arrangements and piano of Rachmaninoff. As his parents were often away on tour he was sent to boarding school at a young age where he formally studied music. At the age of 14 he become choirmaster and organist at his local church, and that same year purchased his first bass guitar. His parents were reluctant to indulge their sons interests in the blues and early rock n' roll and instead encouraged him to continue learning classical piano and the tenor saxophone, which he also played.

At age 15 Jones joined his first band The Deltas and then moved on to a jazz-rock group in London, Jett Blacks, that also featured guitarist John McLaughlin. It wasn't until 1962 when Jones was hired by The Shadows, a then successful British pop group who had just had a number 1 hit with the song Diamonds, a song which future bandmate Jimmy Page has played on. In 1964 Jones officially began his career as a session musician, working for Decca Records. From then until 1968 it is estimated Jones played on hundreds of sessions, expanding beyond solely the bass guitar and regularly playing piano, keyboards and composing string arrangements. Like Page during this time, he frequently played on sessions featuring successful artists at the time like the Rolling Stones, Herman's Hermits, Donavan, Jeff Beck, Cat Stevens, Rod Stewart and Dusty Springfield. Like Page, with the amount of sessions they had both completed in the years preceding Led-Zeppelin, it is hard to remember or note even a third of the sessions the two played on and much speculation exists as to what else might feature their performances.

It was during this time that Jones adopted his stage name of John Paul Jones after the 1959 movie of the same name. It was also during this time that Jones' path frequently crossed that of session guitar ace, Jimmy Page, notably on recordings by Donavan and the Rolling Stones. It was during these sessions that Jones initially expressed interest in anything Page might put together in the future. In 1967, Jones contributed to the Yardbirds final album Little Games, a year later he would join Page along with Plant and Bonham to complete Led-Zeppelin's lineup.
Jones is often considered the unsung hero of Zeppelin, in addition to forming a powerhouse rhythm section with Bonham and contributed classic bass lines and riffs, like Black Dog, his formal training in classical music and arranging proved invaluable to the band, especially on later albums that featured greater experimentation.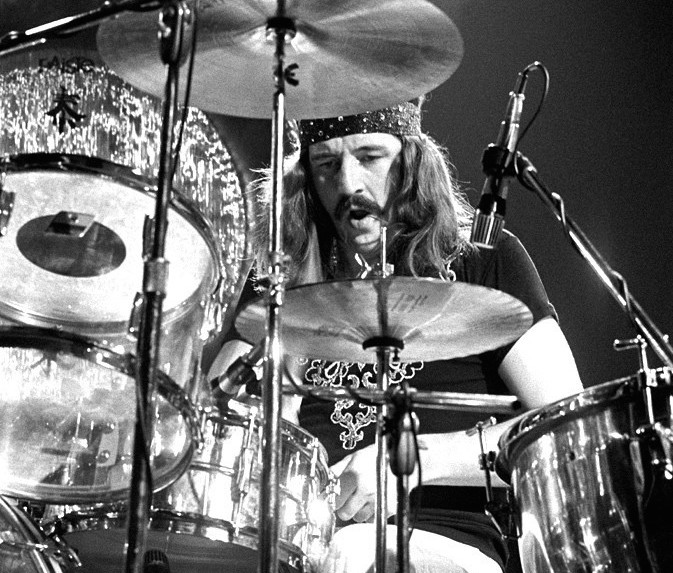 John Bonham
John Bonham was born May 31st, 1948 in Redditch, England. He began teaching himself to play the drums at age five by making a rudimentary drum kit out of containers and coffee cans. His early influences included Max Roach, Gene Krupa, and Buddy Rich. At age 10 he received his first snare drum and his first full drum kit at age 15. While never taking a formal lesson, he would often seek advice from fellow drummers in the area. While in secondary school, his headmaster wrote about him "he would either end up a dustman or a millionaire." He left school in 1964 and began working for his father full time as an apprentice carpenter while still drumming for local bands. That same year he joined his first semi-professional band, Terry Webb and the Spiders. Later that same year he began drumming full time in a slew of local Birmingham bands, one of which was called the Crawling King Snakes, whose singer was Robert Plant. In 1967 Bonham joined Band of Joy with plant and recorded several demos but no album. In early 1968 the American singer Tim Rose toured Britain and the Band of Joy was asked to open for him, when Rose would return later that year, Bonham was asked to join his band.

At the suggestion of Robert Plant, Jimmy Page and manager Peter Grant set about recruiting Bonham for what would become Led-Zeppelin, but Bonham was reluctant. Having just started to receive reliable work as a drummer and also receiving offers from the likes of Joe Crocker and Chris Farlowe, Bonham eventually relented to Page's offer, recalling later "I decided I liked their music better than Cocker's or Farlowe's." Throughout his life in Led-Zeppelin and after Bonham would regularly be cited as the greatest and most talented drummer in the world, since or before. Being noted especially for his power, fast bass drumming, distinctive sound and feel for the groove. He would regularly incorporate the use of his bare hands in his extended drum solos as well as two concert timpani and a symphonic gong. His integral role in the band was in no small part cited as reasoning for the ending of the group following his death.